Great Leadership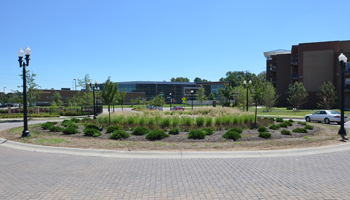 The round-about on Edgewood Boulevard with the Edgewood Village's Marian T. Hall Building to the right and the view of the Akron Urban League across the street.
It Takes A Village
"This project nearly completes the transformation of an entire neighborhood. It is extraordinary what so many good people have done to make this area come alive again."
— Donald L. Plusquellic, Mayor, City of Akron
The former Akron Metropolitan Housing Authority's (AMHA) Edgewood Homes was Akron's second oldest public housing development. The transformation into Edgewood Village provides Akron with a vibrant, revitalized and thriving gateway neighborhood that enhances the accessibility to community services and amenities.
Edgewood Village is part of a larger Ward 3 investment and improvement plan to which the City of Akron has significantly invested in the community and economic development. Local organizations have also invested and committed to continuous improvement.
Located directly across the street from Edgewood Village is the new Akron Public Schools K-8 Helen Arnold Community Learning Center worth over $8.6 million. Next door to the school, the Akron Urban League raised $5 million for a new local headquarters and community center. Adjacent to Edgewood Village, the Akron Zoo has invested more than $19 million in new exhibits and facility upgrades, and is planning additional investments of over $20 million. In addition to AMHA, the City and private community investment groups are focused on developing additional housing.
Edgewood Village has forged a sustainable neighborhood and is a keystone in the community's revitalization.