About Edgewood Village
Mission Statement
Edgewood Village is committed to promoting a working, affordable and diverse neighborhood in partnership with the greater community.
Vision
Live well. Grow together.
Service Funding Awards
Ohio Capital Impact Corporation (OCIC)
Carol Mount Peterson Resident Development Fund
2012 Summer Camp Scholarship Program - $30,000
2013 Summer Camp Scholarship Program - $5,000

2014 Health, Education & Employment Assistance Program - $15,000

2014 Summer Camp Scholarship Program - $30,000

2015 Summer Camp Scholarship Program - $30,000
2016 Group Connections - $30,000
2016 Summer Camp Scholarship Program - $30,000
2017 Group Connections - $29,330
Development Funding Awards
2005 HOPE VI (Housing Opportunities for People Everywhere) Grant - $20 million - U.S. Department of Housing and Urban Development
Design Awards
2009 AIA Northeast Ohio Chapter
2009 National Dream Home Gold Award

Best Detached Home Under 2,000 Square Feet

2009 National Dream Home Gold Award

Best Townhouse Under $250,000

2009 Affordable Housing Tax Credit Coalition

Public Housing Revitalization Honorable Mention

2009 Ohio Capital Corporation for Housing

Excellence in Special Needs Housing

2008 Home Builders Award

Best New Homes & Construction First Place
An Akron Neighborhood Celebrating Community
"Edgewood Village is more than a place to live. It offers opportunity for family growth, neighborhood support and community partnerships. It is the beginning of a bright future, rich with possibilities. This opportunity was made possible through the partnership of the Akron Metropolitan Housing Authority, the Department of Housing and Urban Development, the City of Akron, the Ohio Housing Finance Agency, the Ohio Capital Corporation for Housing and many other private and non-profit organizations."
— Anthony O'Leary, Executive Director, Akron Metropolitan Housing Authority
Edgewood Village is a supportive, family-focused environment. It provides Akron with a vibrant, revitalized and thriving gateway neighborhood that enhances the accessibility to community services and amenities.
Akron Metropolitan Housing Authority was awarded a $20 million HOPE VI (Housing Opportunities for People Everywhere) federal grant from the Department of U.S. Housing and Urban Development in 2005. AMHA leveraged this grant into a $50+ million revitalization of Akron's second oldest public housing development, Edgewood Homes. A total of 226 mixed-income apartments and townhomes have replaced 145 obsolete public housing units.
Offering 1- to 4-bedroom rentals, the award-winning Edgewood Village is designed with spacious floor plans and architectural details that bring families and the community together. The senior building offers innovative adaptable and accessible design. Senior apartments allow tenants to "age in place" even as their sensory and mobility needs change.
Edgewood Village features:
On-site professional management
Community computer lab
On-site resident programming
Easy METRO bus service access
Central location near libraries, entertainment, community services, major hospitals and medical professional facilities
Well-lit community pathways
Edgewood Village features an amazing array of education, entertainment and services within a 1.5-mile radius. A few of the highlights are listed below. Please see
Neighborhood Amenities
for an extensive list.
The Akron Urban League
The Akron Zoo
The Odom Boulevard branch of the Akron-Summit County Public Library
Lane Field with basketball, baseball and tennis courts
Downtown Akron with its award-winning Medical Corridor, Entertainment District, Canal Park Stadium, Akron Art Museum and more
Inspired by Akron and Dedicated to Preserving Its History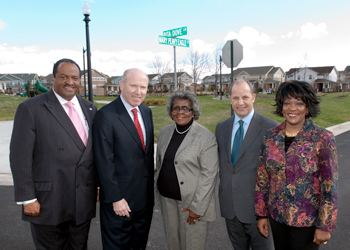 Pictured left to right at the street dedication ceremony October 15, 2010: Akron City Council President Marco S. Sommerville, AMHA Executive Director Anthony W. O'Leary, Mary Peavy Eagle's daughter Grace Richardson, AMHA Board Chair John C. Fickes and Pulitzer Prize winner and former Poet Laureate Rita Dove.
As an Akron neighborhood celebrating community, Edgewood Village celebrates three community leaders — Mary Peavy Eagle, Rita Dove and Marian T. Hall — for their lifelong devotion to bettering the community.
Mary Peavy Eagle Court. Eagle, an activist and community leader, was the first African-American PTA president in Summit County, founder of the Akron Negro Council and a charter member of the Ohio Community Chest, now the United Way. She was instrumental in seeing that the first black teachers were hired in Akron and was active in the NAACP and the Democratic Party. She was also the first African-American woman to run for state representative and for Akron City Council in the 1940s.
At the street dedication ceremony in October 2010, Eagle's daughter, Grace Richardson, said it was wonderful that her mother was being honored: "Mother wanted Akron to be a great place to live, and I think her dedication to bettering the lives of its citizens certainly shows that Akron is a great city with great people. I want to thank AMHA for this tribute to her memory and dedication."
Rita Dove Lane. Dove, a Buchtel High graduate and daughter of the first African-American research chemist at Goodyear Tire and Rubber Co., received a Pulitzer Prize in 1987 for her third book, Thomas and Beulah, a collection of poems based on the lives of her grandparents in Akron. Rita Dove also served as Poet Laureate of the United States and Consultant to the Library of Congress from 1993 to 1995.
"I can't tell you how much of an honor it is to stand here before you and to tell you that I am touched would not be enough to tell you how deep the feelings are," Dove said at the dedication ceremony. "I spent my early childhood quite close to this new complex, on Monroe Street, between Edgewood and Rhodes Avenue. The 5-year-old who played along those tree-lined brick roadways could have never imagined that in the future one of those street signs would bear her name." She continued, "For me, this is like coming home."
Marian T. Hall Building. The mid-rise building at the corner of Vernon Odom and Edgewood Village Boulevards provides a much needed specialized living environment with its innovative senior apartments. The first floor welcomes the Edgewood community with onsite management and resident services, a computer lab, and community and meeting rooms. The building also sits on the site of the original Edgewood Homes community building dedicated to Marian T. Hall, and AMHA is pleased to continue the dedication by naming the new building after Hall.
Through her personal experience, Hall learned the pain and stigma associated with being poor, and this experience led her to champion the needs of the poor. As an activist, Hall organized funding and better treatment of those caught in the welfare cycle. She was the founder and president of the Summit County Committee for Adequate Welfare and Welfare Rights Organization and the State of Ohio Welfare Rights Organization. As a community leader, Hall also sat on the board of the Akron Urban League, the Mayor's Human and Community Relations Commission, and was the past president of the Summit County Human Services Committee.
Her motto and life dedication: Everyone should be treated with respect, regardless of their position in life.